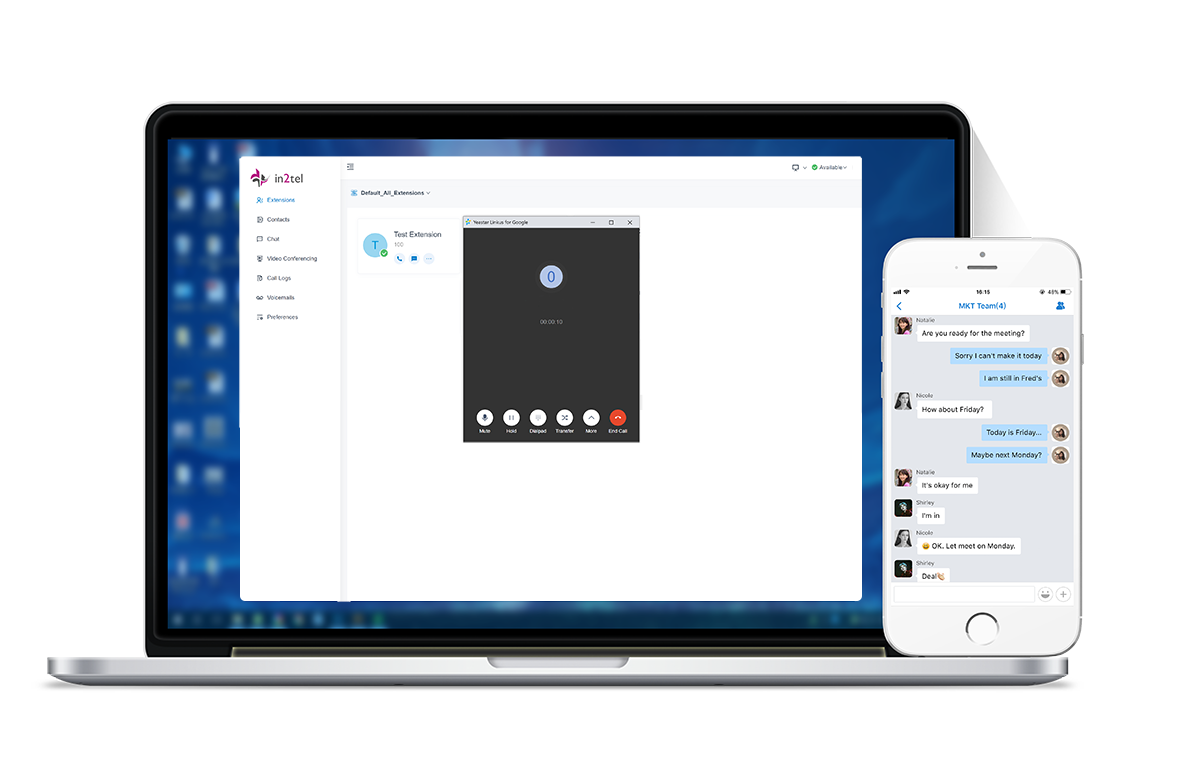 An enterprise-grade phone system for a small business price. As it's hosted in the cloud, there are no infrastructure requirements and it only requires a minimum of four users for purchase!
All you need is an IP phone, a smartphone, or a computer, and you're up and running.
---
in2pbx Essential Features
Mobile & Desktop App
A mobile and desktop softphone that provides the phone system's in-office experience and powerful collaboration features.
Voicemail
Create personalised greeting messages and get notified immediately when received.
Voicemail-to-email
Have your voicemails automatically converted to email and sent to a destination of your choice.
Call Transfer
Relocate existing telephone calls to the appropriate department, agent, or phone, using a transfer button.
DND
When active, any incoming calls will be blocked for that extension and the call will be passed to the group.
Call Parking
Put a call on hold at one telephone set and continue the conversation from any other telephone set.
Call Logs
Record every detail of each inbound and outbound call, including CLIs, DDIs, and the corresponding agents.
Ring Groups
Organise your extensions in a variety of ring strategies, so that incoming calls are always answered.
Time-based Routing
Choose where calls go after your office closes or on weekends.
Hot Desking
Log in to any phone and instantly have access to your extension, voicemails, contacts and other settings.
Computer telephony integration
Control your physical handset from your computer. You can dial and use any of the phone system's features with a few clicks of a mouse.
Music on Hold
Plays a choice of music over the phone, while a caller is on hold.
Hot Desking
Used to manage lists of PIN codes that can access restricted features such as outbound routes.
Whitelist & Blacklist
Numbers in a whitelist are allowed to call in or be called. A blacklist is used to block incoming and outgoing calls.
in2pbx Benefits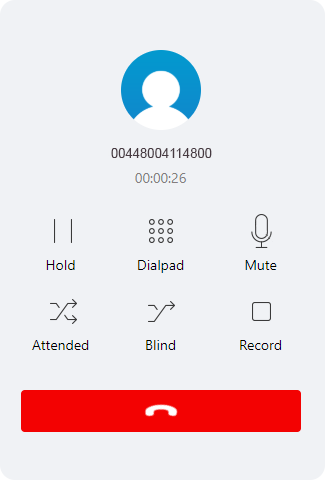 Built for reliability and security
Tier-1 interconnects and a private MPLS fibre backbone minimises hops on the public internet.
Redundant multi-cloud infrastructure and carrier independence eliminate downtime.
Encryption options for signalling (TLS) and media (SRTP/ZRTP) ensure your communications are secure.
in2pbx Plus Features
Essential +
All the features included in the Essential package are included with in2pbx Plus.
IVR
Take the pressure off your agents by routing calls to the correct department, before the customer reaches a person!
Audio Upload
Upload music or voice audio files for when callers are left on hold.
Call Monitor
Listen in on agents' calls in real-time or record for later retrieval to improve agent performance.
Pickup Groups
Answer a call on another extension in your designated group by pressing a soft key or entering a short code.
Callback
Callback will hang up the caller and call them back so that they are directed to the selected destination.
Speed dial
Turn numbers into short codes, reducing the need to look up and dial long-form phone numbers.
Conference
Enable multiple on-site and outside callers to participate simultaneously in password-protected conference calls..
Stacks Pharmacy
Moving all our telecommunications to in2tel back in 2020 was the best decision we ever made.
in2tel made the transition from analogue handsets to a cloud solution as simple as they possibly could. From the time we placed the order to the installation the process was seamless. As we have a number of very busy pharmacies in various locations it was important that it was business as usual.
The product did exactly what they said it would do and much more.
They offered really good advice on how to save money on our line rental,
which we were very happy to avail of.
Their response time on queries from the Helpdesk & Network team is second to none and I wouldn't hesitate in recommending in2tel to anyone.
Let's get in touch!
If you'd like us to review your current phone bill. Please send it as an attachment to sales@in2.tel. We'll have one of our experts give you an honest answer and if we can save you money.